Latest posts by Keith Lindner
(see all)
The Baby Swag is supported by its audience. When you buy through links on our site, we may earn an affiliate commission.
Laura and Sarah, the co-founders of Bobbie, aren't just entrepreneurs – they're moms. Moms with a bone to pick with the rather stale, $60 billion baby formula industry that seems to be managed by a gentlemen's club of old fogies who care more about profit than your baby nowadays.
And I mean come on, who better than a couple of determined moms to shake things up?
About Bobbie: a modern company for modern parents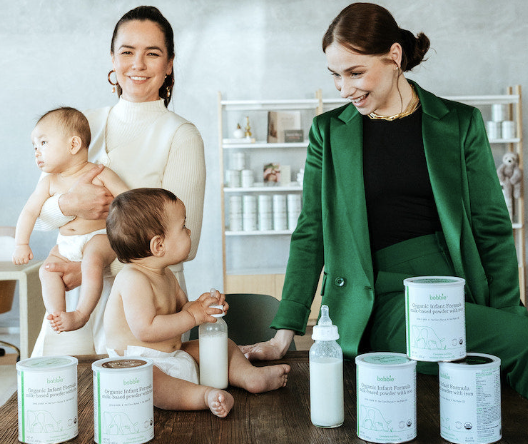 After some challenging moments on their own personal feeding journey's in 2016, they embarked on a mission to create the pristine, top-shelf infant formula that they wanted for their babies because they believed American parents are developing a taste for quality. And boy were they right.
Reasons we love Bobbie
They tell you exactly what's in their formula and at what ratio. Most other formula brands make that really hard to discover.
Bobbie is made with high-quality, GMO-free, organic ingredients and doesn't have any fake flavors, sweeteners, or colors.
They meet Kosher, Halal, USDA Organic and EU Organic guidelines and even won the Clean Label Project's Purity Award and Pesticide Free certification.
Bobbie Formula has made it part of their mission to create a blend of carbohydrates, proteins, and fats that mimic the composition of breast milk.
They have committed to invest over $100m in research to advance the industry by 2030. They've hired an all star team of health practitioners and researchers to lead the way.
Last but not least, Bobbie has a subscription service that delivers their formula straight to your doorstep which you can change, cancel or pause with ease.
Types of Bobbie baby formula
As a fairly new brand, Bobbie has a limited product range at the moment. They are currently doing some more clinical trials so my guess is that they'll be introducing some additional products in the coming years. But for now it's pretty simple with their two flagship products.
This is their original formula and the go-to for most Bobbie parents. If you're just starting your formula journey, this is most likely where you should begin.
Bobbie's European style recipe is modeled after breastmilk with main ingredients being 57% carbohydrates, 28% fats, 11% proteins, and 2% vitamins and minerals.
This formula is suitable for term babies and can be used from 0-12 months. So fingers crossed if your baby is comfortable on this one, you won't have to even consider anything else for the entire first year.
Keep reading below to dive deeper into the ingredients behind Bobbie's unique formulas.
Bobbie released their first gentle formula in 2023. The word "gentle" is generally a marketing term used in formula-land to describe a formula blend that is "partially hydrolyzed." That means it should be easier (or more gentle) on your baby's digestive system because the proteins in the milk have been broken down into smaller bits.
We would not recommend starting with this formula unless you've already spoken to your pediatrician about being on a partially hydrolyzed formula. If you're just starting formula for the first time or doing it from birth, it's usually best to start with the Organic blend above.
Most gentle baby formulas on the market tend to:
Not taste as good as non-gentle formulas because hydrolyzing proteins can change their taste profile.
Be more difficult to prepare, with clumps settling at the bottom of a bottle.
Reduce the lactose content and compensate by adding corn syrup, corn syrup solids, sucrose, brown rice syrup, and/or maltodextrin.
I was very impressed by the Bobbie gentle formula because they didn't replace the lactose with unhealthy carbohydrates. Instead, they kept the lactose (just like breast milk) and broke down the dominant proteins to help your little one digest the formula more easily. Well played Bobbie.
Benefits of using Bobbie
You can learn all about their ingredients and nutritional facts on their website but we've broken it down below into the things we think are most important to wrap your head around.
Same protein ratio as breast milk
When looking at formula ingredients, it's important to look at the amount of protein types. There are 2 types of protein in all mammalian milk (cow, goat, & human) – they are called whey and casein. The amount of each of these 2 proteins is important. Mature human breast milk consists of 60% whey and 40% casein. Bobbie has this 60:40 ratio as well, which helps support gentle digestion.
Lactose is the only carbohydrate (sugar) used
Babies need sugar, but the type of sugar used can vary from formula to formula. Certain formulas use only lactose, the sugar naturally found in milk. The only sugar in Bobbie is lactose, this means there is no sucrose, maltose, corn syrup, glucose syrup, brown rice syrup, or maltodextrin.
Swag fact – Did you know that human milk has more lactose than most other kinds of milks, including cow or goat milk?! This is true even if mom does not eat dairy.
An organic oil blend free from palm oil
Bobbie's California-native supplier shares their commitment to quality and safety. According to Bobbie "They voluntarily meet EU standards, because they share our belief that consumers deserve the best and that FDA guidelines aren't as strict as they'd want for their own family's consumption."
The biggest concern for most parents when it comes to the oil blend is palm oil. Palm oil is safe for consumption but is bad for wildlife, our rainforests, and many indigenous populations. It can also cause constipation as well as preventing the calcium and fat absorption your infant needs.
Bobbie has also recently removed soy oil from their ingredients list. Fat is critical for infant brain health and development. They swapped soybean oil for organic, non-GMO low-erucic-acid rapeseed (canola) oil, which naturally includes oleic acid—the predominant monounsaturated fat in human milk.
Water extracted DHA Omega-3
DHA Omega-3 is an important nutrient that helps brain development. Bobbie infant formula uses an algae-based DHA that does not use hexane for extraction. It is water extracted DHA and meets the EU standard of 20mg/100 calories (the US does not have a set DHA nutritional requirement for infant formula!). It provides your child with the benefits of this essential fatty acid for brain and eye development.
Organic pasture raised cows
Bobbie sources their organic milk from USDA organic farms, ensuring that all of their formula milk comes from pasture-raised organic cows. Bobbie organic infant formula includes organic skim milk and whey protein, which helps make the whey:casein ratio more in line with breastmilk. Bobbie's lactose and whey are also sourced from small, organic farms here in the US.
Loaded with other key nutrients
Bobbie formula includes iron, which is critical for red blood cell function and brain development. Bobbie formula's iron content complies with the FDA standards for iron in infant formula. In addition to other critical vitamins and minerals (like B Vitamins, Vitamin C, Vitamin E, etc), Bobbie baby formula includes a healthy amount of Vitamin D which is important for bone development and immune function.
Additional safety measures
Tamper-evident cans
Some product tampering issues have affected the baby formula industry in the past, sparking many to demand stricter safety measures be put in place to ensure it doesn't happen again.
Bobbie is addressing this issue by using tamper-evident cans designed to make it easier to determine whether the container has been opened. Once the can's lid is opened, it can't be resealed.
Product traceability
According to Bobbie's safety page, products only leave the manufacturing facility and hit market shelves if they pass all the quality and safety checks.
You can even trace your product by typing in the lot code to learn more about the Bobbie products they bought.
Are there any drawbacks to Bobbie?
They are certainly hard to find. Bobbie is ticking nearly every box for what we expect from a modern formula brand.
Due to Bobbie being a newer brand (meaning they don't have huge economies of scale like the big dawgs in the industry) and because they spend more for higher quality ingredients, it's only natural that the price is going to be a bit higher.
Bobbie does not offer bulk pricing at this stage so each can is $26 or $28 for their Organic or Organic Gentle, respectively. At 14.1oz, that's $1.84 and $1.99 per ounce if you do that math.
If you compare this to the cheaper store brand formulas you can buy as well (which are 100% safe for your baby) you can get down to around $0.60 per ounce. We understand that's a big difference that can rule Bobbie out for many families.
We want to be clear that all infant formulas sold in the US are safe for your baby to consume. Millions of babies have consumed them all, including myself, and most of us turned out to be half decent human beings, right? The best choice for your family is one that fits your budget and your values.
Outside of a higher price, some might argue that 'convenience' and 'availability' would be the other two areas Bobbie is a little behind. Bobbie is available at Target nationwide but they are not at every supermarket or pharmacy like Enfamil and Similac are. But you could also argue that their subscription service offers more convenience and availability since you don't have to leave your couch to order it and you get priority access to their supply.
Update (June 2023): Bobbie has acquired Nature's One, a 26-year-old pediatric nutrition company, in a move that gives Bobbie end-to-end control over formula manufacturing through a new facility and triples the size of their operations.
Bobbie has been in high demand so we're not surprised to see them acquire another company like Nature's One. This will give them a big boost to their production and hopefully allow them to keep up with the demand for their incredible products.
That being said, they prioritize their subscriber parents and pretty much guarantee you will get your formula if you're on a subscription. So this is another reason to consider the subscription model.
All of this combined makes for very few downsides if you ask us.
Buying Bobbie formula in the US
In addition to creating a high-quality product, Bobbie is creating a high-quality customer experience as the first-ever direct to consumer formula company—a massive bonus for busy parents that are already used to getting everything delivered.
Subscriptions auto-renew each month and you have the ability to dial it up or down depending on your needs. Standard shipping is FREE with subscriptions and you can even change the address if you'll be traveling with your baby. You can also cancel at any time.
They allow you to pick from 4, 8 or 10 cans when ordering and have a handy feeding guide to help you understand how much formula you are likely to need whether you are exclusively formula feeding or combo feeding. It couldn't be easier.
As we mentioned above, Bobbie is pushing their subscription service and offering priority access to those customers right now. But you are able to do one-time purchases as well. Subscriptions are flexible and designed to support everyone. You can change your shipping frequency, pause, or cancel your subscription at any time.
Pricing
Bobbie does not offer bulk pricing at this stage so each can is $26 or $28 for their Organic or Organic Gentle, respectively. And keep in mind their cans are smaller than a lot of other formulas on the market at 14.1oz. So if you do the math, that's $1.84 and $1.99 per ounce.
It's comparable in price to all the leading European brands that Bobbie was initially modeled after but quite a bit more expensive than many of the storebrand formulas you can buy in the US. Price obviously has to be a consideration in your decision to find the right formula. This is another option for parents to consider but it is on the premium end of the spectrum.
If you have any questions they have a great customer support team available through their social channels @Bobbie and via text, phone or email M-F, 7am pst to 5pm pst.
Bobbie alternatives
If you want to compare Bobbie against some of the other leading organic formulas, we've got you covered. Here are two other very comparable brands that you can also have shipped straight to your door.
Kendamil
Kendamil is a family owned business that started over 60 years ago in the UK. It is the only formula brand sourced and manufactured in the UK. They've been the formula of choice for the Royal Family and many other parents around the world due to their incredibly high standards and amazing reputation.
They have a few more options to choose from compared to Bobbie but the dedication they put into making their formula is very comparable. So if you're looking for another premium infant formula, you really can't go wrong with Kendamil.
Kendamil is currently available in the US now through a special arrangement with the government after the crisis of 2022. You can find some of their range stocked at Target, Walmart and other grocers around the country. For example, you won't be able to find their Goat or Comfort formulas at this time (last updated July 6, 2023).
But the easiest and most reliable way to get your hands on this incredible formula is through a well respected EU formula supplier. Kendamil does not ship direct to US customers but we've partnered with a few great suppliers that do.
Buy at > The Milky Box || Organics Best || My Organic Co
---
Holle
Holle is another well-established (almost 90 years) European known for producing clean, simple, gently processed organic formula for a natural and balanced diet while remaining committed to environmental sustainability. Holle cares about protecting children's futures which is why they offset the CO2 emissions that occur during formula production. They prove it by ensuring all of their formulas are either climate-neutral or climate positive.
It's also important to mention that while all of Holle's formulas are organic, some of them even hold one of the strictest private organic certifications in Europe, the Demeter seal. This is a serious certification.
Holle has a wide range of baby formulas available. They have formulas based on regular cow milk, A2 cow milk, and goat milk. Holle offers infant formula for newborns, follow-on formulas for babies that are 6 months or older, and toddler formula for kiddos 12 months and up so if your baby likes it they'll be able to support you all the way. Buy from one of our trusted suppliers below.
Buy at > The Milky Box || Organics Best || My Organic Co
---
FAQs
Was Bobbie formula recalled?
In 2019, the FDA did issue a recall of Bobbie products but it was due to a labeling issue. It had nothing to do with the product or their ingredients. Bobbie's leadership team worked diligently with the FDA and their manufacturing partner, Perrigo, and one year later received the green light to launch as an FDA regulated infant formula.
The formula that Bobbie was marketing as a toddler formula in the U.S. was being sold as an infant formula back in Germany, where it was being produced. The FDA felt that labeling the product as toddler formula was misleading to consumers, especially since toddler versions of formula aren't regulated as strictly as infant formulas are.
This was very early in their journey and shouldn't be a factor when considering whether Bobbie is the right formula for your family.
Where is Bobbie formula made?
Bobbie formula's manufacturer, Perrigo, is an experienced formula maker (Perrigo) that has been manufacturing infant formulas for over 35 years.
Perrigo has manufacturing facilities in Vermont and Ohio and ensures that USDA Organic, Kosher, and FDA quality standards are met. Bobbie makes it easy to learn more about their safety protocols if you're inclined to learn more.
---
Bobbie Review: Final Thoughts
Over the last decade or so, we have seen a massive shift in consumer behavior. Brands can no longer just sell products and services anymore. They need to sell experiences.
Thankfully, over the last few years, parents have started demanding a more immersive and engaging experience from the brands that create literally one of the most important food sources on the planet… baby formula.
As someone who has spent the last decade of his life literally studying business models and go-to-market strategies, I am thrilled that Bobbie has entered the market. They are what I would call a "challenger brand."
A modern challenger brand has business ambitions bigger than its conventional resources. They are prepared to do something bold, usually against the existing conventions or codes of the industry, to break through. Modern-day challengers are less about "who" they're standing up to and more about "what" they're taking issue with.
So I'm not surprised to see Bobbie is already in the bellies of thousands of babies all across the US. Parents are flocking to this new, clean formula that undergoes over 2,000 quality checks. From their clear beliefs and modern packaging to their accessible customer service to high-quality ingredients, Bobbie is perfectly blending the science and experience together.
If you're looking for a formula that is made not only with the most high quality ingredients but also made with passion, then look no further than Bobbie. We are rooting heavily for them to keep setting a higher and higher bar for all formula companies as its time someone did.
Bobbie formula is good for your baby and good for the environment and you can feel confident giving your baby the best you possibly can to promote their growth and development.
Breastfeeding provides optimal nutrition for infants. Our recommendations are based on the products we have personally used or researched; they are not a substitute for professional medical advice. Please consult your pediatrician before making any changes to your child's diet, especially in cases where your baby has dietary restrictions or allergies.