Nurture Life is a trusted and popular meal delivery service that's mostly known for its delicious and nutritious foods made especially for children as young as ten months old. Once you subscribe and receive your orders, all you have to do is heat the meals and serve!
It's highly convenient and time-saving, and we all know how these two aspects are essential when you're a new parent who takes care of an infant 24/7.
This service offers a wide range of dishes made by chefs and dietitians. Besides baby food, they also offer lunches and dinners for older children and adults. As a subscriber, you can even opt for the right kind of meal packages that suit the needs of your infant. The menu alternatives include numerous soy-free, gluten-free, and vegetarian meals.
In this Nurture Life review, I discussed my experience with Nurture Life, the main traits of this delivery service and its pros, cons, price, potential risks, main alternatives, and more.
What Is Nurture Life – Brand Overview
Nurture Life is a regular meal delivery service that works through memberships. The company provides nutritious meals made from whole foods suitable for the entire family, from babies to adults. All their dishes are created under the supervision of registered and experienced dietitians, and they consist of whole grains, organic products, and verified and healthy protein sources.
Nurture Life meals come already cooked and prepared, so all there's left to do is heat them before consuming them. This subscription meal delivery service sends its products to its clients every week. Still, it will be very convenient for you to pause or skip certain weeks if you need or want to.
About the Company
The company is a pretty small one specializing in offering already prepared meals for infants, toddlers, children, and adults. Most client feedback is positive, mainly because Nurture Life focuses on healthy eating. Most of those who have ordered and tried these meals say that they like or love the food and that their kids also enjoy eating them.
On the other hand, some clients have mentioned that there should be a wider variety of meals to encourage kids to try all sorts of new and healthy foods.
One of the co-founders of the company is a mom of two boys. The idea of this business partly started from her struggles as a parent when feeding her children with the best and healthiest foods available while also solving other daily tasks.
Nurture Life was founded in 2015 by Jennifer Chow and Steven Minisini.
What It Offers
As a client, you can choose your desired weekly menus and meals that you consider the most suitable for your kids. You will have to opt for a certain type and number of meals you want to receive each week. Most meals cost around $8. You can cancel or pause your membership whenever you want, as long as you do it before the weekly cutoff since there's no contract whatsoever.
There are several different menu options on the website:
Babies between 10 and 24 months – the baby menu has a lot of finger foods so that your infant will be able to take them in their little hands and feed themselves. Most meals consist of ingredients like chicken, peas, sweet potatoes, rice, carrots, and more;
Toddlers between 1 and 4 years old – this menu has plenty of delicious yet veggie-filled dishes such as mashed sweet potatoes with chicken, apple slices, DIY pizza, butternut squash, mac and cheese, etc.;
Kids between 5 and 12 years old – the portions in this menu are larger to accommodate the needs of your growing and developing children. You will receive meals like chicken Parmesan, rainbow veggie rice, chicken meatballs, salmon, and more;
Over 12 years old (teens and adults) – the servings in this menu are quite generous, considering they're made for teens and adults. Some of the most popular dishes on this menu are tortellini alfredo, chicken biryani, and pot roast;
Shareables – side dishes and entrees are included in the shareable section of the website; these come in servings big enough to feed between 2 and 4 people. Glazed carrots, mushrooms, meatballs, and ravioli are some of the foods you'll find here;
Cold lunches – there are three available options of cold lunches: carrots and chicken meatballs with pear slices as the snack, pizza and apple slices, and tortellini with carrots and chicken breast. All three varieties are great as school meals.
Nurture Life Review – Subscription Options
All the meals that Nurture Life provides are ready to serve after you heat them up in the microwave or the oven. You can also receive cold lunches that meet the nutritional needs of your developing toddler, infant, or older children. Family plans are also popular in this business since they cover weekly dishes for all your immediate family members.
Most Nurture Life meals cost between $7-$8 and $13-$14 per dish. Those created for adults or teenagers cost more than those made for babies. The minimum order must have the value of $39, while orders that cost at least $59 or more benefit from free shipping. Otherwise, the shipping fee is $8.
As you could read in the previous section of this article, there are several menu options you can choose from, based on what you want to receive and the number of meals you wish to order. You could only select those menus that are made for infants and toddlers, or you could opt for the plan that covers your entire family, including the adults.
Sign-Up Process
The sign-up process is straightforward. At first, you must write your personal information by accessing the onboarding section of the website. The first time you visit the site, you must go through the sign-up process. After that, all you have to do each time you want to revisit the site is to log in using your email and password.
The platform requires you to complete certain details regarding how many kids you have or want to order for, your meal preferences, how old your children are, and your preferred number of meals you want to receive every week. Then, your cart will be automatically filled with specific meals that the company's experts consider suitable for you, based on your answers.
However, you are free to make all the changes you want before heading to checkout. If you want to select a certain meal, you must browse through the designated section where all the children's meals are featured and select those you think your kid might like.
Every time you select a meal, a pop-up window opens, and there you can see many useful details about that certain dish. You'll be able to see all the ingredients, the allergens, nutritional values, customer ratings, prices, a photo of the meal, and heating instructions.
Once you've established your Nurture Life account, you can start adding preferences to that account. For instance, you could filter through the meals and opt only for those that don't contain gluten or soy. Others might only like vegetarian meals, and they can add these meals as their favorite ones to their account.
After that, you will see how the automatic feature of the cart will improve, and it will be filled with much more suitable meals. You can still make changes, so no worries about that!
Shipping and Packaging
The company delivers its meals all over the United States, except Hawaii and Alaska. For the shipping service, nurture Life collaborates with two popular delivery businesses: UPS and UDS. Although the meals aren't frozen (which is a major plus), they will be kept in optimal conditions, in special packages that will maintain the food around refrigerated temperatures for a minimum of 48 hours, which is enough for the meals to arrive at their destination.
However, as soon as you get the order, you must put the meals in the fridge to ensure their maximum freshness. Also, if you won't consume them in one week or so, the best solution is to place the packages in the freezer, where you can keep them for a maximum of 90 days.
Your orders ship each week automatically, but you are free to modify an order, from your account, before the cutoff date that appears on the platform. Another major perk of this meal delivery service is that clients can pause or cancel their subscription any time they want. You can even skip an entire week.
Every time your order is shipped, you will receive a notification via email.
Containers
All the meals are securely packed in frozen non-toxic gel containers, covered in an insulated liner. Each dish is individually packaged. On the packages, you will see how the meal looks and several scenes that feature the meal's ingredients. Let me give you an example. For the Cauliflower Mac & Cheese meal, the label shows wheat stalks in the form of ladders and cauliflowers placed in the shape of trees.
These beautiful illustrations are a great starting point for a discussion with your little one about the things they will eat, and it's also a way to encourage them to consume veggies, especially if we're talking about picky eaters. All the gel packs can be reused, while the containers are recyclable.
Ingredients and Nutrition
Nurture Life makes meals with organic ingredients as much as possible. According to the company's representatives, all their ingredients are sourced from trusted providers, all of which seem to meet both the safety and quality standards required by Nurture Life. One example could be the antibiotic-free chicken included in these meals. Moreover, the salmon they use is ASC-certified.
You will find the entire list of ingredients and nutritional details on the website. Until a certain point, the company can even provide meals suitable for those who have special dietary needs or mild food allergies. One thing you should know is that vegetarian meals are lacto-ovo-vegetarian, which means they might contain eggs and dairy products.
Nevertheless, Nurture Life meals are nutritionally-balanced, since they consist of healthy proteins, organic vegetables, and whole grains. All these dishes are prepared under the supervision of pediatric dietitians. One portion contains around 350mg of sodium, which is pretty decent for an already-prepared food.
There are also numerous meal options that don't contain added sugar, but most of these dishes have between none and 4 grams of sugar.
Some Popular Meals
Before consuming a meal, you must heat it in the microwave or the oven for about two minutes. I usually feed my niece a Nurture Life meal or snack when she wakes up from her daytime nap. Otherwise, she becomes fussy because of the hunger sensation. As long as you keep the meals in the fridge, they are good and safe for consumption for about one week.
Here are some of the Nurture Life meals I've seen my two nieces enjoy most:
Mashed potatoes and pot roast;
Cauliflower Mac & Cheese;
Cornbread muffins with BBQ pulled pork and carrots;
Zucchini Pomodoro and cheesy chicken;
Pasta with veggies and chicken meatballs.
My youngest niece prefers the Mac & Cheese meal, while the favorite dishes of my oldest niece are mashed potatoes and pasta. My husband and I have also tasted some of these meals, and we both like the BBQ pulled pork and the cheesy chicken. We were surprised by how full of flavor these meals were. Moreover, their texture was great, which is very important if you plan to eat heated foods in the microwave.
Pricing Options
Nurture Life provides four different pricing plans, based on the number of meals you want to order (the higher the number, the higher the discount will be). So, more ordered meals will translate into higher savings. Furthermore, you can update your current plan any time you feel like it. Cancellation and skipping weeks are also possible. The price of one meal starts at $6.89.
Here are the available pricing options that you can select from:
Six Meals – this is the basic and most affordable plan because it provides fewer meals. It's pretty straightforward;
Nine Meals – this plan is the most popular one that many new clients opt for; with this plan, the shipping is free;
12 Meals – if you choose to subscribe to this plan, you will receive 12 meals, free shipping, and a discount of $10;
15 Meals – those who opt for the plan with 15 meals included will benefit from free shipping and a higher discount of $15.
On average, the cost of one Nurture Life meal ranges between $7 and $14. Also, your order shouldn't be lower than $39. Larger orders come with free shipping. But, for the shipping to become free, you must order meals with the value of at least $59. If you don't manually skip, modify, or cancel the subscription, you will continue to receive your weekly delivery with the last ordered products.
Nurture Life Review – Pros and Cons
Let's look at some of the pros and cons of this meal subscription service.
Advantages
All the meals include vegetables;
These meals are healthy and nutritious without sacrificing taste;
Each meal represents a great protein source;
All the ingredients used to prepare these dishes are real and organic;
They're not frozen; all meals are fresh;
You will save a lot of time and effort with this weekly meal delivery service;
You can order meals for the entire family;
Large orders benefit from perks like discounts and free shipping.
Disadvantages
This service is a bit more expensive compared to other similar meal delivery subscriptions;
These meals aren't suitable for children who suffer from severe food allergies or Celiac disease;
At first, ordering these meals will be a gamble because if your child doesn't like them, you will have wasted money and food;
Significant waste is created by the fact that each meal is shipped in its individual packaging;
The company should improve its meal diversity.
Nurture Life Review – Health Benefits and Risks
Nurture Life meals come with numerous benefits and a few potential risks. So, here they are.
Benefits
The meals are full of healthy ingredients;
They will help you develop your kid's diet by exposing them to new foods;
Each meal is carefully prepared to include whole grains, vegetables, healthy proteins, and fruits;
They're safe for kids with nut allergies since these dishes don't contain any nuts whatsoever;
All the meat used to prepare these meals is free of antibiotics;
You won't have to worry about getting the right serving anymore because the company makes sure that each portion is suitable for your child, based on his or her age and nutritional needs.
Risks
You should always check the containers and the food when they arrive since there is a slight chance of them not coming totally fresh, especially if the transportation took longer than expected;
Another downside might be that parents will eat different meals than their kids, which might not help with picky eaters. Studies show that when parents eat the same as their little ones, children tend to get accustomed to various types of foods a lot easier;
According to scientists, most kids consume too much salt. Some of these meals contain a bit too much sodium, so be careful with what dishes you choose and order.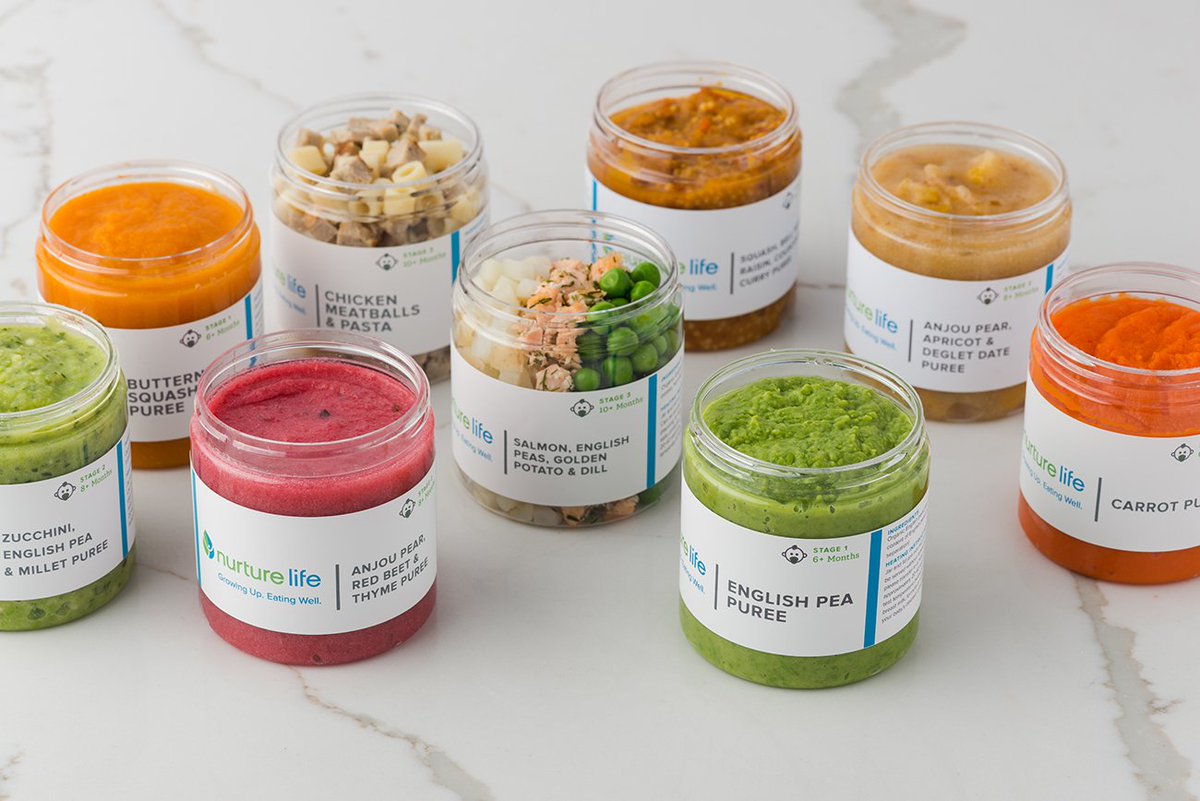 Main Alternatives to Nurture Life Meal Subscription Service
FAQs
Question: Are Nurture Life Meals Legit?
Answer: Yes, they are. These meals are healthy and carefully prepared to suit your child's needs. All the foods arrive fresh at your door, and many of them are made with organic ingredients and protein from verified sources.
Question: Are Nurture Life Meals Expensive?
Answer: The cost of your order will vary, depending on the meals you choose and your chosen subscription plan. The more you order, the higher the perks such as free shipping and significant price discounts. This service isn't very expensive, although it costs more than other similar meal delivery services.
Question: Are Nurture Life Meals All Organic?
Answer: Yes; according to the company, all the meals are made with organic ingredients, as they do their best to keep their products as fresh and healthy as possible.
Nurture Life Review: Bottom Line
All in all, Nurture Life is a reputable and trusted brand that offers healthy and nutritional meals for both kids and adults. It's the perfect choice if you want a service that's convenient, appealing to children, and saves you a lot of effort and time. It's true, however, that Nurture Life's prices are a bit higher than the ones applied by other similar companies.
At the same time, Nurture Life has dedicated dietitians who prepare these meals, so they're delicious, healthy, and offer all the essential nutrients that your child needs to develop properly. Another important thing is that it will be very easy for you to reheat and consume these meals.
Images: all images were taken from the official website of the company (nurturelife.com), as well as its Pinterest and Twitter accounts.