Latest posts by Alexandra Gavrilescu
(see all)
Making a decision regarding the best, most comfortable, and safest sleeping arrangement that suits your infant's needs can be a daunting task. There are so many options on the market that parents simply feel overwhelmed in picking the right product. More and more people prefer to keep their babies close to them by sleeping in the same room. If you're one of those people, then today's article is for you.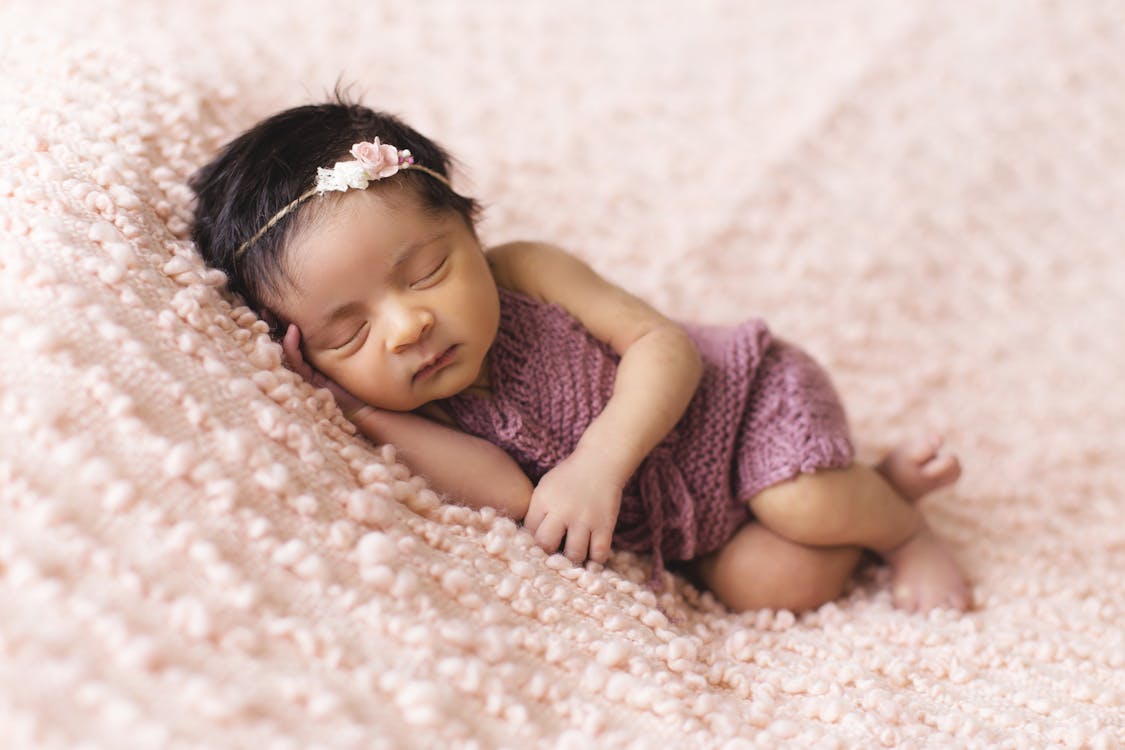 I have researched and researched a wide range of arm's reach baby co sleepers before making the following list. So, enjoy reading it before actually making a purchase!
The Best Co-Sleepers Available on the Market – Top 7 Choices
1. Snuggle Nest Infant Co-Sleeper by Baby Delight
With this Baby Delight co-sleeper, you will be able to create a protective yet open area for your little one. The structure of the product prevents parents from rolling over on the baby due to two sturdy wall units made from a breathable fabric. Therefore, you can safely place the co-sleeper on your bed so that you can sleep together with your newborn.
Pros
You can sleep right next to your baby and keep him or her safe and sound while also preventing certain risks;
There are two side panels made from structural mesh that allows air flow;
There is a slight incline which might help relieve symptoms of congestion and poor digestion which further leads to a night of restful sleep for your little one;
The design of this nest is compact which means it's easy for you to take it with you while on the go or during travels;
It comes with a night light unit that's very gentle and soft. The product also features an audio unit that plays Brahms' Lullaby and soothing womb sounds.
Cons
The sleeper's side parts are somewhat low and tiny, and the walls, although made of pretty durable material, are still soft which, in case it falls on the baby's face, it may suffocate him or her;
As you move around on the bed, the co-sleeper might be pushed and the baby may fall off from it.
2. Portable Infant Co-Sleeping Nest by CubbyCove
CubbyCove is a co-sleeping nest that's very soothing for your baby. Actually, it can play multiple roles. You can use it when you want to sleep together with your baby in the same bed or during daytime care, napping moments, diaper changing, playing with your infant, and even for the infant massaging sessions. The product is both lightweight and sturdy. It will be fairly easy for you to carry it around.
Pros
Although the design of this co-sleeper is quite simple, you can choose from three available colors: white, rose pink, and baby blue;
This portable cot provides a safe environment for your child;
You will also receive a bonus in the form of a travel tote bag in which you can put all your essentials before traveling or going on a play date;
The product's materials are very good. CubbyCove features high-quality 3D mesh which is permeable, breathable, and has amazing anti-bacterial properties;
It is a multi-purpose product and you can easily use it when your baby is sleeping or when you want to play together
Cons
A few users complained about the nest's poor stitching quality that shows on the cover;
It seems that the material isn't very soft;
Some said the zipper broke after several uses.
CubbyCove Baby Nest
In the first months of your baby's life, it is great to have the CubbyCove nest as it is great for naps, diaper changing, playing and even taking it to daycare, so you can provide something homey that your baby will already know and love.
Buy Now
3. By Your Side Infant Sleeper by SwaddleMe
The SwaddleMe baby nest sleeper is safe and comfy for when you want to share your bed with your infant. You will feed, play, rest, monitor, soothe, bond, and create a special relationship with your child, all from the comfort of this co-sleeper. The frame is made from sturdy metal and prevents your little one from rolling over. The sides are made of breathable and transparent mesh which allows you to see the baby at all times, for your own peace of mind.
Pros
Due to its transparent mesh, you will have a clear view of your newborn all the time;
The mesh allows airflow that prevents overheating;
You can use this co-sleeper for multiple purposes: napping time, feeding, soothing, etc.;
The mattress is very comfortable and the sheet is fitted.
Cons
This product might be too large and bulky for certain types of beds. It might not be the ideal choice if your bed is smaller;
Some parents are concerned with the bed's exposed metal parts while others say it has an unpleasant chemical odor.
Why I LOVE this SwaddleMe Sleeper
When you want the baby in the middle of you two, and you worry that you might hurt him/her in your sleep, this is when SwaddleMe comes. The sleeper is really loved between parents and it is such a great choice for on-the-go!
Buy Now
We earn a commission if you click this link and make a purchase at no additional cost to you.
4. Organic Infant Sensory Lounger by Snuggle Me
The Snuggle Me co-sleeper is made from organic cotton and it is manufactured in the United States. Its design is a simple yet smart one that's supposed to keep your baby on his or her back. It's very comfy and it practically hugs your little one. You can use this lounger for toddlers as well.
The tight fit is meant to calm newborns by making them feel protected. Snuggle Me is compact so you can carry it around anywhere and take it with you when you travel with your family.
Pros
It is very lightweight and compact;
Provides a soothing and calming sensation;
All the materials used to craft this product are organic;
The lounger is portable and multifunctional;
Keep your baby in place without using straps or buckles.
Cons
A few moms said that this co-sleeper can be a tad too squishy for their newborns;
It seems that the product lacks a good amount of comfy padding right in the area where the baby is placed.
Snuggle Me Baby Lounger
If you don't have extra space for a tiny human in your bed, this is the perfect baby sleeper for you. Cosy as a pillow, the sleeper willl take care of your baby's naps and will make sure you don't bump on your little one during the night.
Buy Now
5. Grand Dock Co-Sleeper by DockATot
This product works great as a transition surface, from the bedside cribs to bigger beds for toddlers. The Grand Dock comes with a built-in tube that allows air to circulate and plays the role of a bed rail. So, your infant will feel snuggled and secured in this co-sleeper. It is a portable and multifunctional lounger with a compact design. Your little one will enjoy sleeping moments in a cozy and safe environment.
Pros
It comes with multiple covers. You can easily alternate them when one of them gets dirty;
All the fabrics included in the filling have non-toxic properties;
You won't have to wash the product before using it because it had already been washed;
Your baby can use it for a lot of things and activities: resting, playing, cuddling, and everything in between.
Cons
It is quite expensive;
One parent said that the sleeper worked fine until she had to get it cleaned. When she received the product after the cleaning process, the filling was all lumpy;
The side parts aren't very firm which means you must re-fluff the pillow almost every day.
6. Secure Baby Sleeper by The First Years
This soft baby nest made by The First Years is a great option when you want to sleep right next to your baby but you can also use it for feeding, monitoring, soothing, and bonding moments. The Airflow design leads to a permeable fabric so the air can circulate without problems and stop your baby from overheating. It is a highly convenient co-sleeper that works amazingly when you're on the go.
Pros
You can travel with this co-sleeper without problems and, due to its folding system, you can easily store it in your house;
The fabric is breathable and allows airflow;
It comes with a removable nightlight which enables you to see your baby without problems even when it's dark;
You can place it in the infant's crib for a smoother bedding transition.
Cons
The product is quite large which can make it a bit uncomfortable when you place it on your bed;
The resting surface is pretty short. This means that, once your little one grows, you may not be able to use the co-sleeper anymore.
Baby Sleeper by The First Years
Investing in a baby sleeper is definitely a great decision. This sleeper is well-made and is really compact for traveling, however, might have short usage time, as your baby will likely outgrow it after the second month.
Buy Now
7. Adjustable Co Sleeping Crib by Mumbelli
This tiny infant bed is adjustable and it is great for travel. Its design mimics a mother's womb so your baby should feel comfy, cozy, and secure in it. The Mumbelli co-sleeping bed is free from any toxic materials and it has even received a certificate that proves this aspect. The polyester material is machine-washable. One thing that caught my attention is the crib's side. Mumbelli's side parts are higher than the ones of other similar products.
Pros
It's made from non-toxic fabrics;
The sides are high which makes the crib a safe environment for your little one;
You can clean this product in the washing machine;
It features a very useful wedge insert that works miracles for babies who deal with colic and acid reflux;
The bottom part won't slip at all and there's a pocket where you can put all your baby essentials such as pacifiers and nursing pads;
It comes with a travel bag.
Cons
Compared to many other similar products, the Mumbelli crib is definitely more expensive;
There are a few controversies linked to this co-sleeper. One of them is the fact that the product might fall apart after several weeks of use, especially if you don't follow the cleaning guidelines written on the label.
How to Find the Best Co-Sleeper – a Brief Buying Guide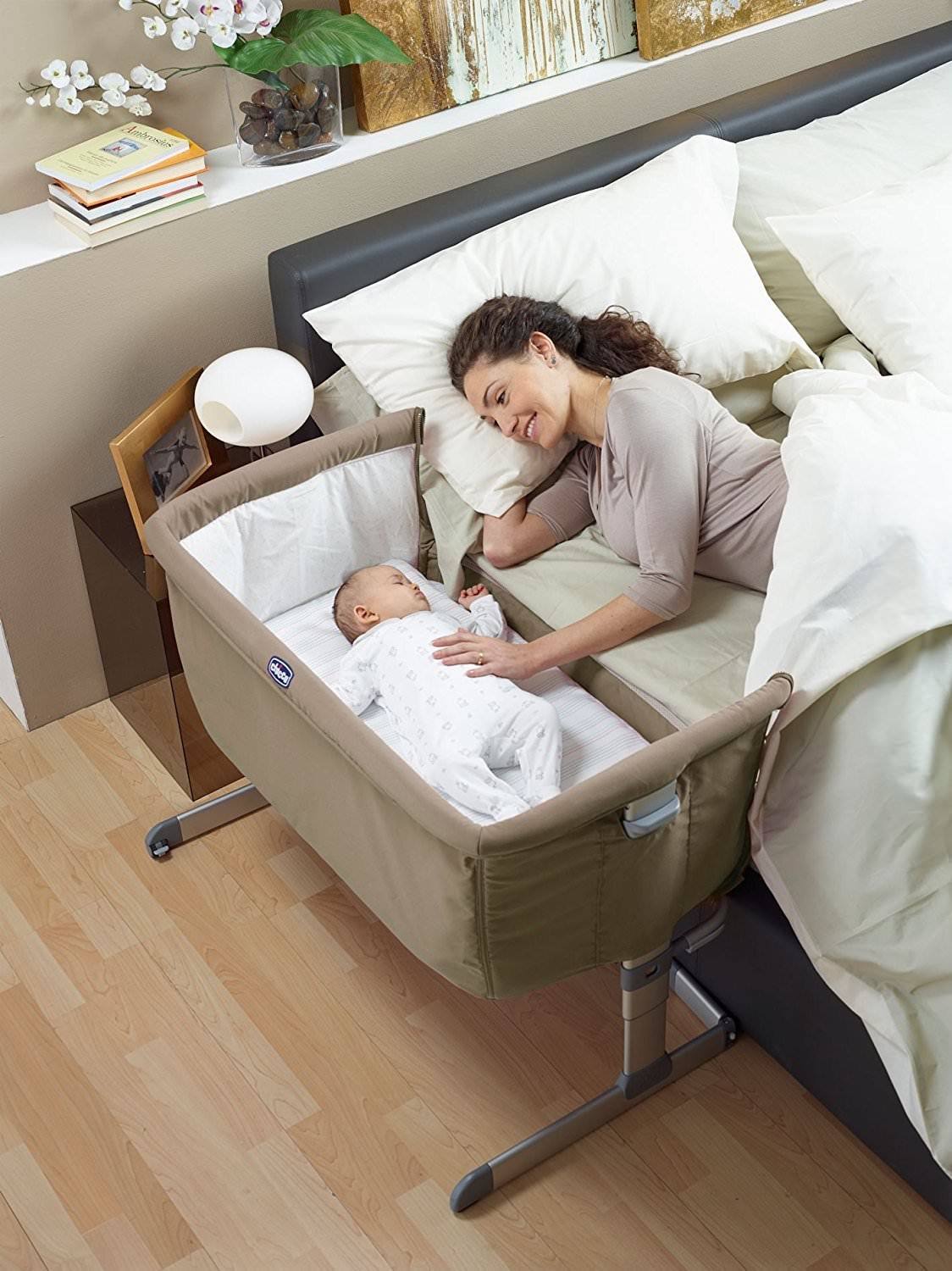 Size and Versatility
Newborns are tiny little humans but, soon, they will develop and grow. So, if you can, try choosing an adjustable co-sleeper or one that can accommodate your infants from the moment they are born and even when they become toddlers. You can either choose a bedside sleeper or opt for a co-sleeping crib. Either way, you should purchase a product that works as a standard crib as well.
Material
Your infant will spend plenty of time in this nest so keep in mind that the product should be made with natural, organic, or at least non-toxic fabrics that are permeable and breathable while also providing comfort and protection. For optimal airflow, you should buy a co-sleeper that has mesh sides instead of solid ones for better ventilation.
Design
Don't go over the edge when picking the right design. Although the way it looks is quite important, there are other functions and features that you must consider as priorities. Still, the design of a co-sleeper is best to remain as simple as possible. Moreover, a crucial element is picking the right nest that has firm cushions which will keep your infant safe. The majority of baby nests have low-key colors because they are meant for sleep.
Safety
Safety should be your top priority, regardless of the model you decide to purchase. All types of co-sleepers, whether they must be placed on the bed or right next to it, must provide the maximum level of protection for your infant. Try to see how well the crib works even before your baby is born. Do that by rolling over and testing it out.
Cleanliness
Babies look clean all the time or, at least, that's what everybody thinks. But wait until they start filling those diapers. Plus, newborns might experience spit-ups and reflux. All these reactions will inevitably get the co-sleeper dirty. Therefore, if you want to achieve a higher level of convenience, you should choose a product that has removable covers which can then be easily cleaned in the washing machine.
Portability
An easily transportable baby co-sleeper will come in handy when you want to move it around. The perfect model is a combination between a safe sleeping surface and a daytime lounger.
Types of Baby Co Sleepers
Cribs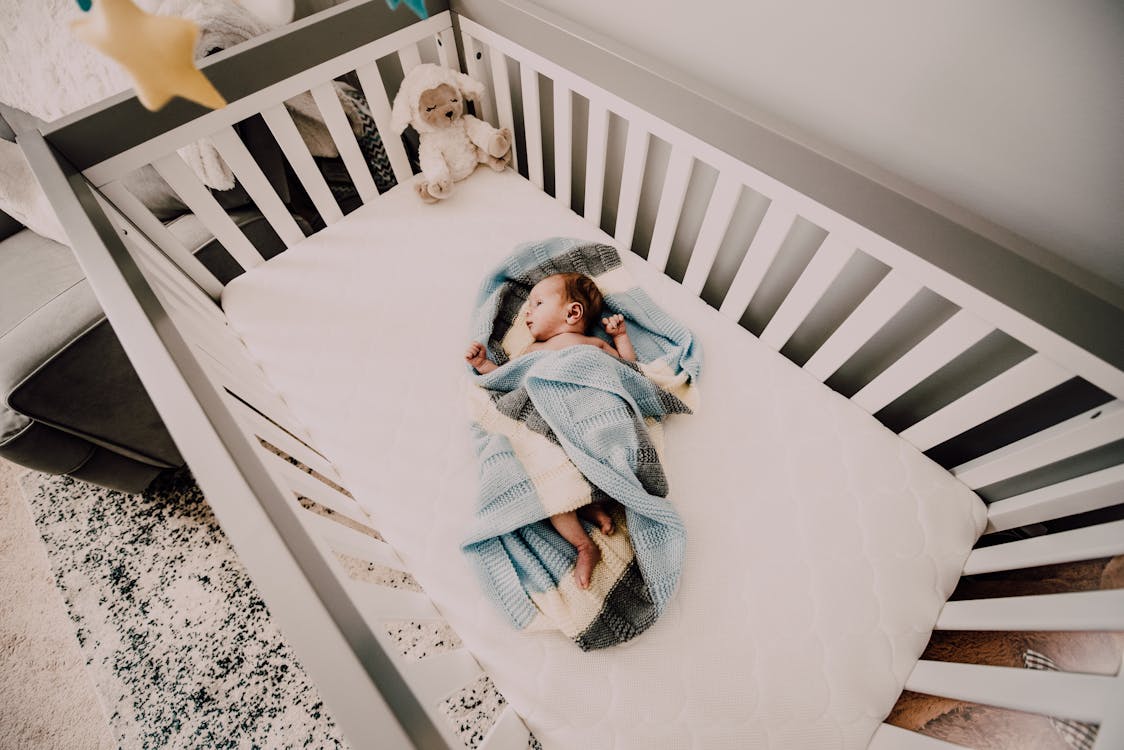 These are the most common and popular sleeping solutions for little babies. Most of the models available on the market are convertible which means you can use them for a long period of time. However, they don't offer the kind of protection that baby nests do. In other words, cribs are mostly used for toddlers. On the other hand, baby cribs come with sturdy structures and the classic version is made of wood.
Baby Nests
Snuggles or nests are very lightweight. You may say they are a special type of bassinet. The thing with baby nests is you must only use them on your bed. They are portable so you can easily carry them by hand. Simply put, these products are the optimal solution if you travel a lot with your little one. Buy bulk rifle ammunition online for .223, 5.56, .308 and other calibers. We've got the best rifle ammo from Winchester, Federal and other top brands. Shop for rifle ammunition available in all calibers for sale online from Guns.com. Find cheap, bulk rifle ammo – 22 long rifle, winchester, 6.5 creedmoor, and more. Find low prices on rifle ammunition including .223, 5.56mm, .270, .308 & .30-06 for your AR15, AK47 and other firearms in stock and ready to ship. Find the best ammo for sale at AmmoCave.com! #ammo #rifle #ammocave #ammunition #shop #online #sale #cheap #rifle-ammo #best-ammo #USA @store #ammo-cheap
Bassinets
Bassinets aren't used for a long time and they are smaller compared to cribs. Most parents place their babies in bassinets up until 6 months of age. A bassinet is a significantly more portable as well as easier to reach compared to a regular crib. Certain bassinet models are made to have wheels and stand-alone by the bed. Others have a stationary design which means they are attached to your bed.
Final Thoughts
When you bring home your newborn from the hospital, there's a lot of excitement going on, to say the least. But then, the worries start: where should your bundle of joy sleep? What's the safest environment for him or her? Although co-sleeping remains a pretty controversial topic, specialists say that this form of bonding with your baby provides a lot of benefits. Choosing the best co-sleeper you can afford leads to a safe and sound sleeping time for your baby.
Recommended Reads: